Step Inside
The images and text below are now available in a canvas wrapped, or softcover book from blurb.com



Selection

J-Unit

Doulas

Caregivers

Head Start

Hope

Release







Selection
Every pregnant woman entering the WCCW institution can apply to the Residential Parenting Program while in Receiving, although a rigorous screening and selection process is done to optimize the pregnant woman's success. Women that are not eligible will need to consider other traditional options: placing the baby with relatives, foster care, adoption, or abortion.
Potential participants are screened for:
Minimum custody status
Length of sentence less than thirty months after the expected birth
Current and past criminal history
History of violent crime convictions
Past involvement with Child Protective Service
Prior history of parental rights termination
Observed behavior which could be detrimental to the smooth operation of the program and children's safety.
The RPP Review Committee follows the guidelines while also considering the uniqueness of each situation. Ultimately, the Superintendent reviews the committee's recommendations and makes the final decision.
The pregnant inmate also has responsibilities. She must fill out an application stating why she wants to participate and who (if anyone) will be available for the baby should an emergency occur (medical crisis, court appearance, inmate infraction). The applicant must appear before the RPP Review Committee to discuss their concerns and her intentions. Once accepted, the RPP mother is obligated to complete caregiver training, participate in parenting classes, help keep the living quarters clean and be accountable for her own child as well as being helpful to the other mother–baby pairs.
After being accepted into the RPP, the pregnant inmate can settle in, nest and anticipate the birth of her baby.
"When I got here, I was six months pregnant. I spent the three weeks to six months in the county jail. When I found out, I had heard about the baby program but I didn't know that much about it. I didn't know the criteria and how you get accepted. I knew it was out there so that made me feel better, that I had the chance to keep him, but I was still scared. And even when I got here, I started out in a different minimum security unit. The whole time until about three weeks before he was born, I was still not accepted to the program. I hadn't been screened yet. They take the time to do everything and it wasn't time for me to get screened yet. They cancelled a screening and then rescheduled it. It was crazy. The whole time, I knew I had no CPS, no violence, any of the things that make it so you don't get accepted, but I was still scared. Scared. Terrified. That was the deciding factor whether my son would go home to the prison with me or not."
"When I found out I was pregnant and going to prison, I just cried. I didn't know about this program and I was supposed to get eighteen months, so I thought, "I'm going to have my baby and I'm going to be away from my baby for a year." I thought of abortion, but I don't believe in abortion. And I wanted a baby. Then, I heard of this program. Other inmates said I wouldn't get in because of my criminal history. But, I don't have a violent history. The judge gave me a year and a day and wished me luck. God or somebody is looking after me. I'm totally excited."
"The officers said, 'Alright. You need to start wrapping it up. You're going to have to come back to the facility. You have not been accepted into the program.' And I just wanted them to leave me alone with my son until I had to go. They pretty much had to pry him out of my arms. I was bawling my eyes out, telling him goodbye. I was scared that I wasn't going to be accepted. It was horrible. The best day of my life having him and then the next was the worse. I was bawling. I had to put on the orange jump suit, be cuffed around my ankles and my waist and my wrists again, and put in a wheelchair and an orange jump suit, strolling through the hospital that way and bawling my eyes out after they took my son. And I was put in the cop car and drove back to the facility, put in a different cell with different cell mates in Receiving, and I was just… I didn't know what to do. I was just praying, praying the whole time, 'Please, God, just let me keep my son. I can't even take this one day without him, let alone a whole year.'"
"I prayed about getting into the Residential Parenting Program every night. I accepted that it could be a possibility that I wouldn't because that way, if it did happen, I wouldn't be as distraught and torn up about it. But how do you really prepare yourself for something like that? You know that it could happen, but how do you really prepare yourself for that? My mom always tells me to focus on the positive, because thoughts create… I was waiting."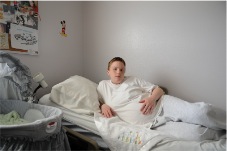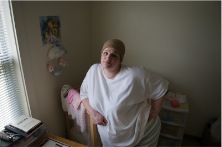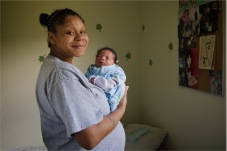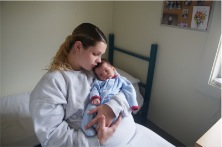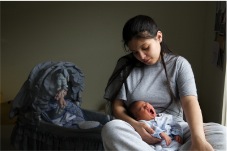 J-Unit

"J Unit" is the name given to the housing building for the mothers and babies in the Residential Parenting Program, a minimum security area.

The J Unit is constructed like an "H"—inmates' sleeping quarters are arranged down two long corridors. The Residential Parenting Program participants, including mothers, babies, and several caregivers, are located along one wing. Each mother–baby pair has their own small room which includes an adult bed, a baby crib or toddler bed, rocking chair, dresser, and desk. In the mother–baby wing, there is a well-furnished playroom, a childrens' bathing and diapering room, a clothes washer and dryer, and a small kitchenette to prepare snacks for the children. There is also a doctor's office where a pediatrician conducts well-baby exams every month.

The middle part connecting the sleeping wings has two lounges for the inmates and the children. There are offices located here for the program administrator, counselors, and officers. An enclosed play area outside in back, nestled between the two wings, has plenty of large toys for the children.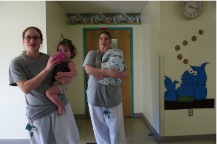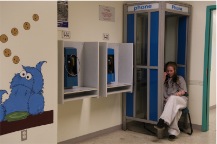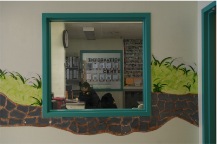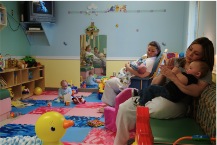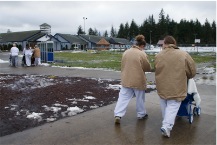 Doulas
A doula is a person, trained and experienced in childbirth, who accompanies a woman or couple through childbirth. She stays with the woman continuously throughout her labor birth and hours afterwards. She is there to reassure and encourage the woman, guide her in ways to relieve labor pain, massage her, and offer numerous other comfort measures. She also helps the woman communicate with the staff so that the woman's needs are clear and she can make informed decisions about her care.
Penny Simkin, PT, CD(DONA) The Birth Partner: A Complete Guide to Childbirth for Dads, Doulas, and All Other Birth Companions


Many doulas, including those who generously offer their services to the women in the WCCW, get to know the women during pregnancy, and learn about their hopes and wishes for their birth experience and their futures with their children, as well as any fears or concerns. Doulas educate and advise the women in non-medical aspects of pregnancy , by helping them take good care of themselves, and gain the knowledge and skills to have the most satisfying birth and the best start in mothering possible. They then follow up with the mother and baby after birth, assist with feeding, sleep, and newborn care issues. The kindness and care the doulas provide at this time gives women the message that the are worthy, valued, respected, and believed in. Such a message can go a long way to help women transform their lives and parent their children.

Doulas have an enormous positive effect on the lives of some of the most vulnerable among us.



"The doulas… I have to give my personal credit to the doulas because they've been there since I got into Receiving. They have given me personally a lot of emotional support. I mean, I've gone through a lot being here in prison. Early on when I first got here, I worried about a lot of things. One of them was, 'Am I going to get to keep my baby?' I really got to know them and I invited them to be there at my birth."
"The doulas really helped me understand what I would be going through. They were advocates for me. If I needed something at the hospital they weren't shy about asking for it. They gave me a massage when I was going through the hardest part of my contractions. And they were really there to support me. Just like a second mom. It was awesome."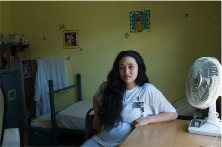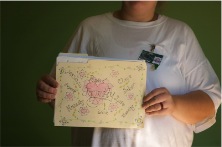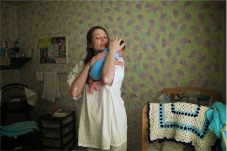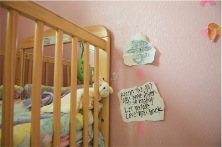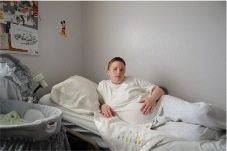 Caregivers
Caregivers are essential to the success of the Residential Parenting Program. Caregivers are qualified inmates living in J Unit, including the inmates accepted into the RPP, who apply for the privilege and responsibility of babysitting the children when their mothers are involved with their programs (ie. work, school, therapy). Caregivers go through a training program and once completed, volunteer to provide care for the children when they have time off from their own responsibilities.
"Being a caregiver has been pretty selfish for me. It has given me a lot of peace to be able to do my time this way. I'm not having any more babies, so that things I've learned about infants and toddlers, I can help with future grandchildren or nieces and nephews that are coming along. Being with the babies is a lot more fun than being with most of the people here. It's a different way to do your time. And to be able to help out young moms, it gives you something to pat yourself on the back for. To be a mentor to other people is a really good feeling. It's a good feeling. When I go back to the outside, I would like to be in this position for friends of mine or my sisters, knowing that I have experience in this. It's a good feeling for me. Probably a healthy thing for me to do."
"Caregiving is a volunteer program here that offers the caregivers… well, I think it offers the caregivers more than the children. Well, it offers a lot to the children, too, though. Like we get to get close to babies. And in prison, we don't get to love. We don't get to hug. We don't get to love. But with the babies, we have this infant that has no mean intentions towards you at all… ever. Doesn't even know what being mean means. And they love you and it's unconditional."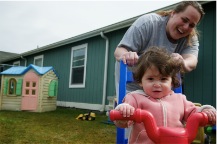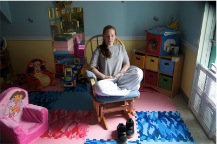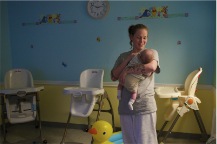 Early Head Start
The mission of Early Head Start (EHS) is to promote and enrich the health, education and well-being of infants, toddlers, families and their communities. Based on the belief that all learning occurs within the context of a relationship, delivery of EHS services occur through reflective supervision and support for staff and also for parents as the primary nurturers and educators of their children.
Puget Sound Educational Service District (PSESD) operates an Early Head Start program in Pierce County, including its partnership with Washington Corrections Center for Women through the Residential Parenting Program. This unique partnership is the first of its kind in the nation's corrections system. The Child Development Center located on the grounds at WCCW is staffed by Early Head Start educators. Center services for the Residential Parenting Program (RPP) include developmental screening and assessment, high quality infant/toddler care and activities, nutritious meals, family support and health services, a Parent-Toddler Play Group, and a New Mom's Group for pregnant women and women with newborns.
Home-based services are also provided by Early Head Start Family Educators to pregnant women and newborns living on J Unit. Services include weekly home ("cell") visits to provide prenatal education and information about infant health and development, to screen for maternal depression, and to promote positive parent-child interaction. Family Educators also work with RPP families and corrections staff to develop individualized transition plans as the family approaches release from WCCW. This is done to insure each family will have the support it needs to make a smooth transition back into its community.
"Another thing that Early Head Start does is helps me with being able with asking what I don't know and not thinking if I ask somebody they'll think I'm a bad parent. Because my personality is that, 'I can do it. I don't need anybody else. I can do the whole thing by myself.' And I'm really working on that, working on being able to ask questions and to try different things I haven't done before. This is a BIG step for me. In parenting, it's is a BIG step for me because I'm usually the one that takes care of everybody. So for me to say, 'I can't figure this out, I need help,' that's a big step for me and I feel proud of myself for being able to say that. And I'm learning everyday, everyday.

"Learning at Early Head Start has a trickle down effect, and I'm hoping that what I learn everyday, because I am learning everyday, is that I can help somebody. Being involved with Early Head Start gives you that. It's empowering."
"I've learned a lot at Early Head Start. I've interacted with the kids and I read a lot… taking care of the baby after it's born, stuff like that. And I get a lot of hands-on experience in here with the other babies. I meet with the Early Head Start people every other week right now. They help me with anything I want to know. I just got three certificates yesterday doing hands-on with eyes, hearing, smells, how babies work and how they are different. And how to teach them at such a young age. It is amazing because I would have never thought that when a newborn comes out, that they have all that going on already. I'm excited to try all these new things with my baby."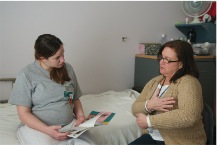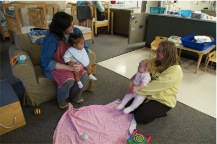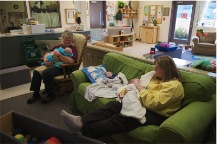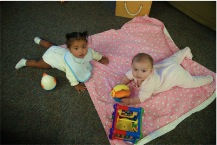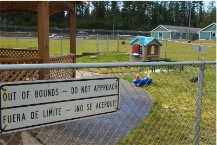 Hope
"I managed to get my GED here. And I got it within six months. It took me all those years out there of getting high and messing around, and in six months here, I managed to get my GED. I wish I hadn't been so scared of it, and put it off, put it off. But I did it. And I graduated, and it was the most awesome feeling. My graduation picture sits up there and I look at it and I think, 'I accomplished something. I did something.' I've held two jobs since being here in prison. I've raised my son to the best of my abilities. And I have confidence but I have very little because that's all been accomplished in prison. Inside these gates, these walls."
"Being in the Residential Parenting Program has just given me a second chance, you know? I didn't really have a place to send my baby to. I was blessed to be able to keep my baby here and it just shows me that I have a second chance."
"I got accepted to the RPP and my first goal was to get my GED before my baby came. And I got that. And when he is three months old in January, I'm going to go into the TRAC program. That's a really good program. I can't wait to get into that program. I really look forward to it."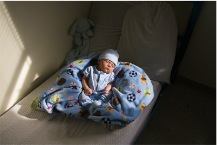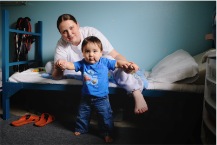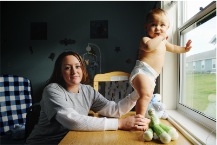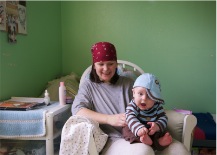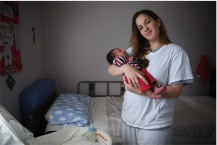 Release
Most inmates look forward to their release date but there is always an accompanying anxiety about the next big step in their lives. Will they meet with success or failure? How will their families respond? Will they find housing? Jobs? Safe and affordable childcare? Some offenders will return to their home communities: some will seek a new place to restart their lives. Some will transition to a pre-release or work-release situation.
Most released offenders will be on community supervision which means they must adhere to certain conditions set forth by the courts and/or the community corrections officer for a period of time. Rebuilding Families Incorporated, a volunteer mentorship program, was initiated which matches a released inmate with a compatible volunteer who provides additional support during this transition period.
"I'm nervous and anxious to see what the work release site is going to be like. And, I know that once I get there, I'll get the hang of it and everything will be fine just like here. I'm comfortable here because I've been here so long and I have a routine. My routine is about to change. And change is always a scary thing, especially for me, because I pick it apart. I must be OCD. I sit here at night and I pick it apart. What are the walls going to look like? What's the carpet going to be like? Is it going to smell funny? When am I going to get to leave? What are my social outings going to be like? How am I going to get a job? It's constant in my head, all day, all night. And now I'm down to three days. I remember just the other day when I was counting forty. Oh my God, I'm down to three days!

"I have to go out there now a different person and try to better myself, better myself for my kids, and go out there with all this knowledge that I have now.I just don't feel ready. I'm still going to be a felon. And I still feel that people are going to look at me differently.

"I'm not sure how people will look at me if they do know. I don't really care what other people think about me, it's just that people don't know. People don't know what this is and what this is about. When people think, 'Oh, she's a felon,' they could think anything. Anything. They don't know how I got to prison, what I did here, what it looks like or what we do everyday. It's a national, worldwide, generalized idea of what an inmate or an offender is. And that's not who I am"
"Getting a job with the economy so bad right now and having a felony on my record. And, I'm nervous because I don't know what it's like to live a normal life. It's been easy here to wake up and have a routine everyday and it's going to change. I've never been a mom on the outside, so this will be a first. With leaving, I think I'm closing a door on my life, my past. When I got here, I was pregnant and I wasn't really thinking about being sober. Well, I knew I was going to be because I had a daughter on the way, but I couldn't grasp the concept yet. And I couldn't grasp the concept of having a daughter or being a mom. And so, I hadn't closed the door on that life yet. And now, it's a brand new start for me so I'm excited. Very excited. I'm just going to keep my plans simple right now."
"It is really stressful being in prison. You have your baby here but you're also in prison and there are a lot of other things going on outside here with your family or significant other or your baby's father… I just care for all these moms. I want good for all these moms. It's kind of hard because you bond with them and then they leave. And you get to love their baby and you get to really care because we're so close here. And we see these people everyday. Then they end up leaving and we are safe here. We're safe here. And we have our babies. When you get out there, things haven't changed. They're still the same. And you get scared for the people and if you don't hear from them, you get really scared. But, a lot of them write and let us know how they're doing, send pictures, you know."